After 18 years of service in social work, Debbie Menzel is retiring from Safe Harbor as the Kids Konnection Coordinator.
Debbie grew up in Webster, South Dakota and received degrees in Human Resources and Community Service through Northern State University. Her favorite part of her time working at Safe Harbor is seeing the children that come to use each day, who are so happy to be reunited with their parents. She is passionate about being part of a great cause and will most miss the happy moments she was able to witness between families. Upon retiring, Debbie plans to "keep her husband out of trouble" and publish books about her family history.
"I leave Safe Harbor and Kids Konnection in good hands, knowing they will continue to provide a very important service for our community in providing safe visitations and exchanges to the families that come to us." – Debbie
Virtual Retirement Party
Usually, this sort of milestone warrants a celebration but like many events planned during this time, we had to shift plans. We're having a "Virtual Surprise Party" on our Facebook page for anyone who would like to leave a comment or message of support for Debbie's retirement.
Parting Words from Debbie
I will most miss being part of such a great cause, the challenges that come our way, and seeing families reunited. I will miss seeing those children and the little things that I get to be witnessed to. I will miss those moments that sneak up on you. Those moments when something occurs in an interaction between a parent and a child that brings you goosebumps.
I often refer to a Childcraft publication, Volume World and Space, a publication we had when my children were young. I liken this job to a poem once read. I title these thoughts: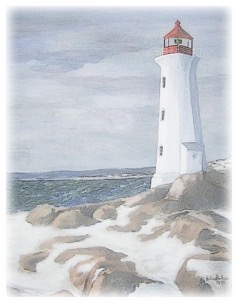 On the Waves to the Future
When sailors sail their ship through a stormy night,
They squint through the rain and darkness and search for a light.
The light they look for is a lighthouse light.
It may blink from the top of a cliff, or shine from a tiny island, or wink from a perch of steel girders.
But when sailors see the light shine through the night, they know that land is dangerously near. They may be sailing close to a rocky beach or into shallow water where the ship may run aground. If that happened, it could be smashed to pieces by the waves of the stormy sea.
But the light warns them of such danger. Then they can steer the ship back to the open sea where they will be safe.
A lighthouse can signify danger and rough seas that rocks the foundations of our soles and tosses us about. It can also signify the beacon of light that shines through the turbulence that is all around us. The lights and the foghorns warn the weary of danger that is approaching. It also reminds us of the distance that one must travel in order to find a harbor where one may feel safe.
Safe Harbor's mission is to assist people in their times of need and can be with them along their journey. Their journey may be like riding the waves to a brighter future to where they can get to a point in life where they feel warm and safe.